SWIVELING TRAILED CAST IRON ROLLER "CAMBRIDGE" TYPE - FRAME INTO 3 SECTIONS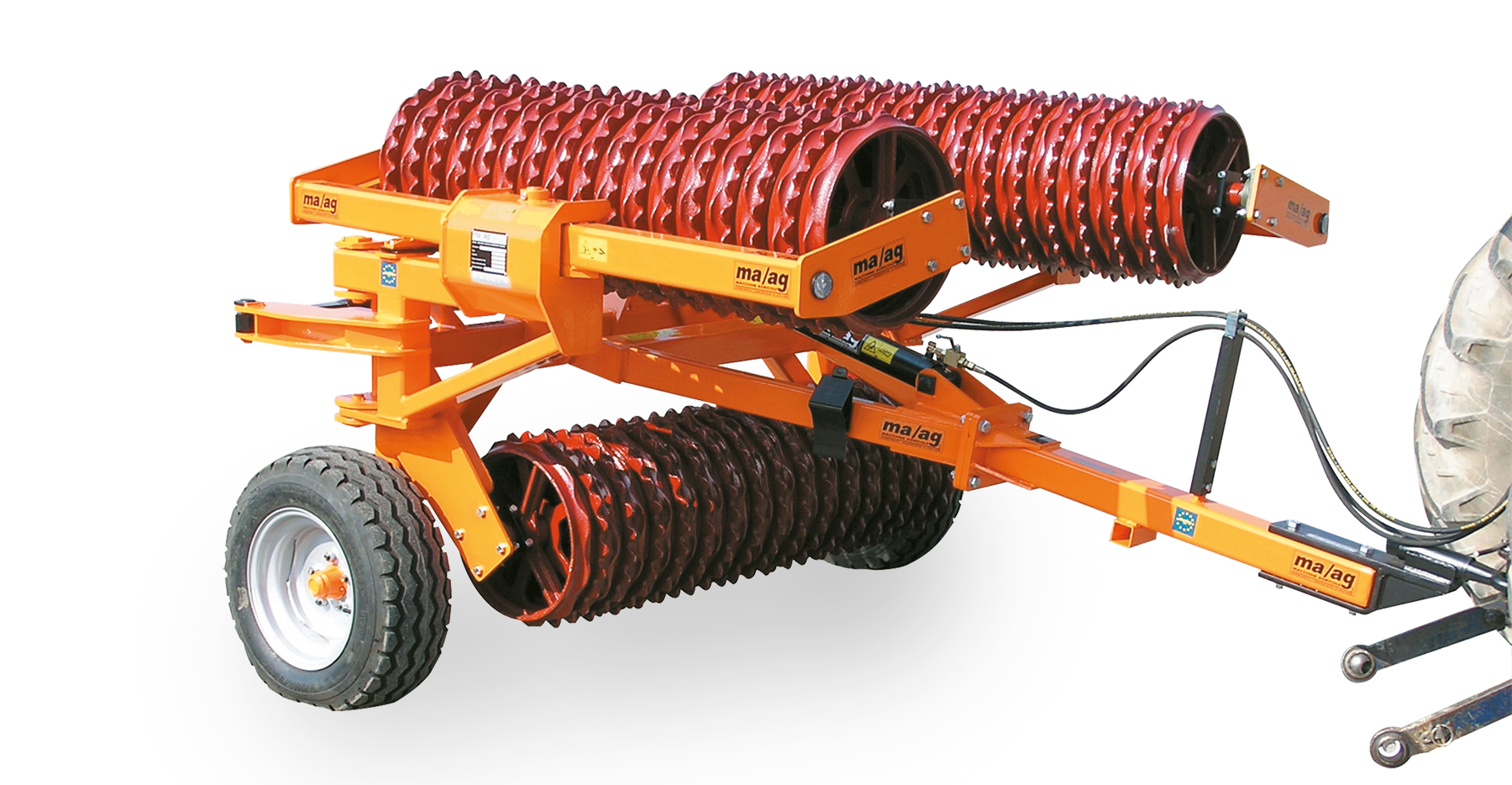 STANDARD EQUIPMENT
• Working width from 4.50 to 8.20. Transport width 2.55 m. Homologed on series for the transport on road.
• Lateral sections, independent and swiveling and oscillating towing, in order to guarantee the independence, allowing an excellent working quality also no-flat land.
•

Frame with hydraulic folding into 3 sections, directly from the tractor, actioned by n.1. Double effect hydraulic jack with locking valve for opening lateral sections and n. 1 hydraulic cylinder on the towing beam for placing the machine in working position.
• Cast iron discs mounted on a steel shaft diameter 70 mm, supports with bearings and greaser.
•

Support with lever adjusting for stopping.
• Wheels type 10.0/75-15.3 - 6 holes hub.
• Rear light bar kit.
| | |
| --- | --- |
| | KIOS45 02 |
| WORK. WIDTH | 4,50 |
| TRANSP. WIDTH | 2,55 |
| HP | 60 |
| KG | 2400 |
| Ø CAST IRON DISC | 530 |
| | |
| --- | --- |
| | KIOS53 02 |
| WORK. WIDTH | 5,30 |
| TRANSP. WIDTH | 2,55 |
| HP | 70 |
| KG | 2650 |
| Ø CAST IRON DISC | 530 |
| | |
| --- | --- |
| | KIOS63 02 |
| WORK. WIDTH | 6,30 |
| TRANSP. WIDTH | 2,55 |
| HP | 80 |
| KG | 2950 |
| Ø CAST IRON DISC | 530 |
| | |
| --- | --- |
| | KIOS76 02 |
| WORK. WIDTH | 7,60 |
| TRANSP. WIDTH | 2,55 |
| HP | 90 |
| KG | 3570 |
| Ø CAST IRON DISC | 530 |
| Not homologated for the transport on road. Wheels size type 11.5/80-15.3 with 6 holes hub. | |
| | |
| --- | --- |
| | KIOS82 02 |
| WORK. WIDTH | 8,20 |
| TRANSP. WIDTH | 3,00 |
| HP | 100 |
| KG | 4225 |
| Ø CAST IRON DISC | 530 |
| Not homologated for the transport on road. Wheels size type 11.5/80-15.3 with 6 holes hub. | |
| | |
| --- | --- |
| CODE | DESCRIPTION |
| ACTIMC 1 | Adjustable towing beam for iron crawler tractor (increased price compared to the standard towing beam) |
| ACTIMC 2 | Adjustable towing beam for iron crawler tractor (after-sales supply KIOS) |
| LAKIOS 45 | Front levelling bar, manual regulation |
| LAKIOS 53 | Front levelling bar, manual regulation |
| LAKIOS 63 | Front levelling bar, manual regulation |
| LAKIOS 76 | Front levelling bar, manual regulation |
| LAKIOS 82 | Front levelling bar, manual regulation |
| STKIOS 45 | Front harrow comb, with manual regulation |
| STKIOS 53 | Front harrow comb, with manual regulation |
| STKIOS 63 | Front harrow comb, with manual regulation |
| STKIOS 76 | Front harrow comb, with manual regulation |
| STKIOS 83 | Front harrow comb, with manual regulation |
| LAKIOSIDR | Hydraulic regulation for front levelling bar |
| STKIOSIDR | Hydraulic regulation for front harrow comb |
| ACSMAC01 | Increased steel support with bearings for trailed roller 3 sections frame (increased price) |
---
Download depliant
---